How Soon is Now - Playing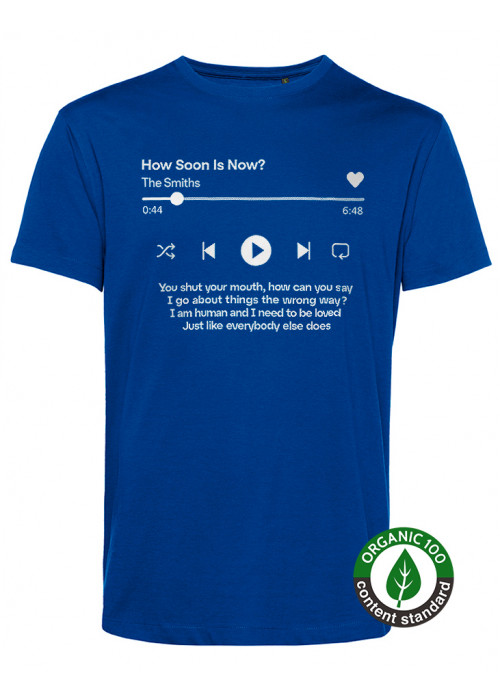 Now Playing T-Shirt of How Soon is Now song! Including the cu:
You shut your mouth
How can you say
I go about things the wrong way?
I am human and I need to be loved
Just like everybody else does
Please read details of the Fabric T-shirt down.

SIZE CHART : Half Chest X Length


S - 19.7" x 27.2" ~ 50cm x 69cm


M - 20.9" x 28.35" ~ 53cm x 72cm


L - 22" x 29.1" ~ 56cm x 74cm


XL - 23.2" x 29.9" ~ 59cm x 76cm


2XL - 24.4" x 30.7" ~ 62cm x 78cm


3XL - 25.6" x 31.9" ~ 65cm x 81cm


4XL - 27.6" x 32.3" ~ 70cm x 82cm


5XL - 29.5" x 33" ~ 75cm x 84cm



+/- : 1" ~ 2,54cm



Top Quality Ring Spun ORGANIC T-Shirt
145 g/m² (Soft Cotton T-shirt, the fabric is not of a Heavy Cotton T-Shirt)
100% Cotton Organic
Pre-shrunk, ring-spun and combed
Thin rib collar
Necktape
Tubular fabric
Regular fit
Shipping Costs:

UK: £3.75 (Same price up to 2 T-shirts except for 3XL & 4XL)
EUR: £5 (Same price up to 2 T-shirts except for 3XL & 4XL)
P&P Rest Of The World: £6.9 (Same price up to 2 T-shirts except for 3XL & 4XL)