To die by your side Class T-Shirt - Women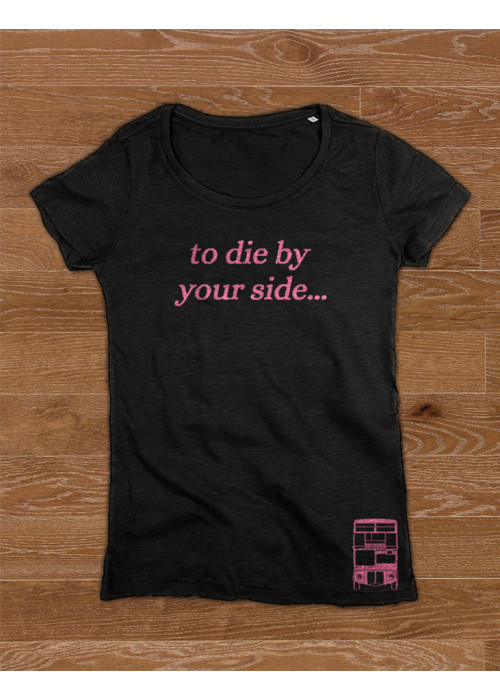 To die by your side... famous line of 'There is a Light That Never Goes Out' lyrics. I did not know which one to choose if 'is such a heavenly way to die' or 'well, the pleasure, the privilege is mine' so I decided to leave it opened !

''To die by your Side' Bus Class Fashion T-Shirt - Black Women

Letters and Bus Printed on VELVET Cloth
Fashiona T-shirt for women, made of soft slub cotton for a texturized look with feminine wide neck drop and nifty grain stitches on sleeves and hem.
Slub Cotton, reinforced shoulder seams, sleeve and bottom hem with grain stitches, slim rib collar, fashionable wide neck drop, taped shoulder to shoulder, small size label in the collar, care label in the side seam, side seams
Other features:

Crew Neck for women
Fabric: 100% ring-spun slub cotton
140 g/m²
Regular Fit
Care Instructions: washable at 40°C
Size Chart :
S - Width: 45,5cm, Long: 66,5cm
M - Width: 48,5cm, Long: 68,5cm
L - Width: 51,5cm, Long: 70,5cm
XL - Width: 55,5cm, Long: 72,5cm
Width +/- 2.5cm, Long +/- 2.5
Shipping Costs:
UK : £3.75 (Same price up to 3 T-shirts)
EUR: £5 (Same price up to 3 T-shirts)
P&P Rest Of The World: £5.9 (Same price up to 3 T-shirts)